Paul Scopinich builds a gorgeous 35-foot express boat - 13 of them so far - but hull 14 stepped the wow factor up a notch with truly beautiful lines. John Barton already owned a Scopinich 35 Express, but he came up with several great ideas that convinced Scopinich to make some major changes to the original deck layout. The result is the 35-foot walk-around, Happy Mariner, and her debut will bring joy to a lot of anglers.
Barton's knees have been acting up in recent years. On the new walk-around, he can go forward to tend the bow lines, or set an anchor, without having to climb up or down to get up front (a benefit I had not even considered). I had noticed, however, that there is no step in the deck for a hooked-up angler to trip over if he or she has to circle the boat while fighting a fish.
The 100-square-foot cockpit sports a rocket launcher with a 70-gallon on-deck livewell (covered in teak decking) set around the stanchion. An insulated bait/drink box is built into the back of the rocket launcher. With a few more rod holders (easily installed), the walk-around layout provides a perfect platform for drifting for swordfish or kite fishing for sails.
The helm boasts a beautiful "old-Rybovich-style" set of stainless-steel single-lever controls and a cast steering wheel custom made for the Scopinich. Analog engine gauges recess neatly into the classic varnished helm pod. A pedestal chair with footrest allows clear vision both forward and aft.
Capt. Danny Ford spilled over with praise on the way the boat ran and handled as we idled out of the Manatee Pocket near Port Salerno, Florida. I remembered being impressed with the way an earlier express model had handled and loved the maneuverability and quick response of this one as well. She steered well in all directions with a single engine in gear — even in gusty 20-knot winds.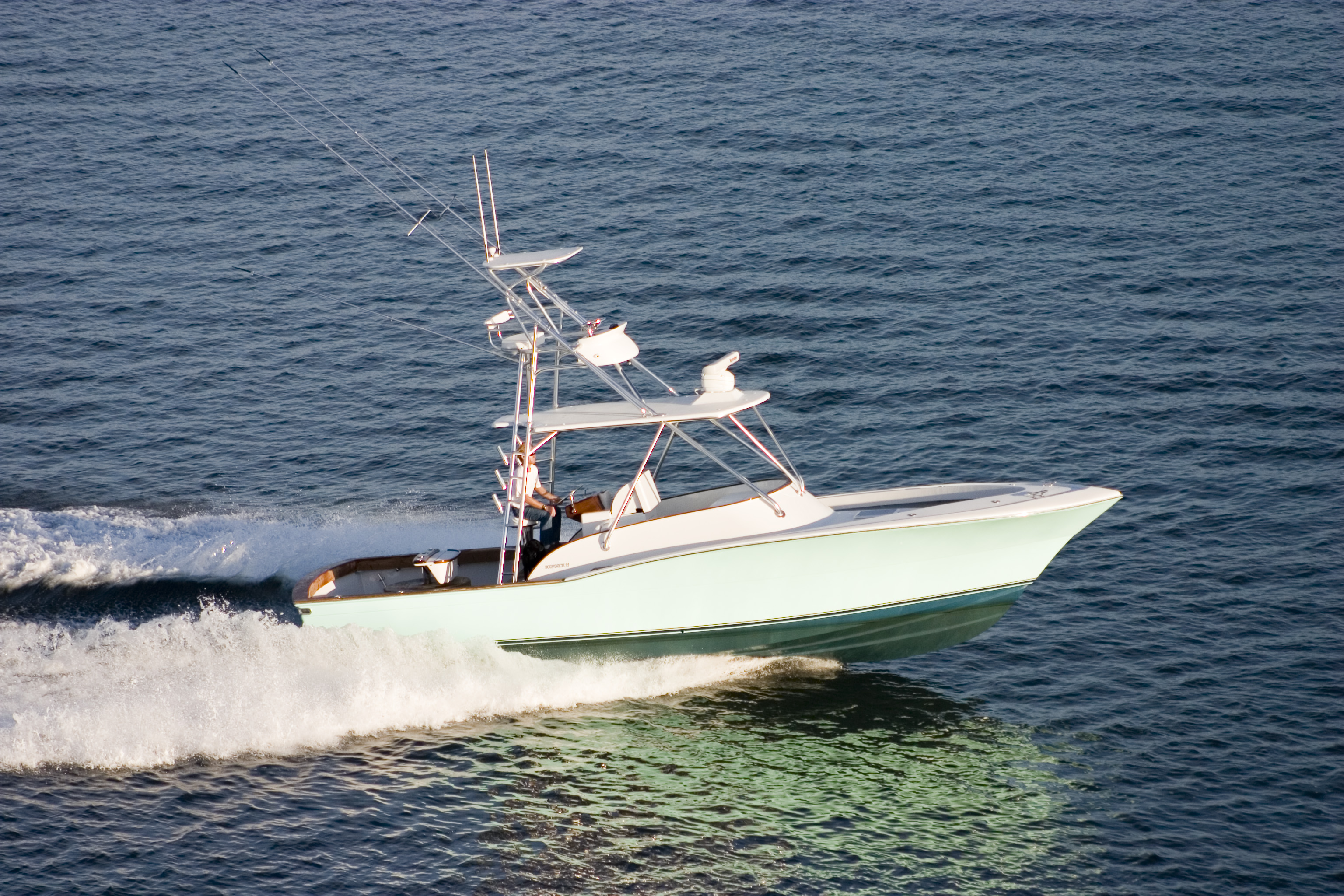 Light-tackle record seekers take note: With the twin QSB Cummins 425 hp diesels and the 1.5:1 reduction gears in this light hull, this boat handles like a champ. She spins great, and you could actually fight a fish without having to touch the rudders. When I turned the wheel to utilize the rudders, the boat turned even better, making it one of the best-responding inboard-powered boats I have tested in years!
You'll find plenty of room in the cockpit for a full-size fighting chair and plumbing for an alternative on-deck livewell - making her a great rig for chasing marlin or giant bluefin tuna on heavy tackle as well.
At present, she turns more rpms (3,050) than manufacturer's specifications (2,800), so you could probably get some more speed by swinging a bit more prop. At both the 25- to 26-knot cruise and the 35-knot wide-open throttle, she burned less than a gallon per mile. With 400 gallons of fuel on board, she's got plenty of range for a boat this size.
Some engine rooms on similar-size boats remind me of a
5-pound bag trying to hold 7 pounds of spuds - but this one was tidy, clean and not cramped. You can access the space via an electrically driven lifter that raises the whole helm-deck hatch (fully sound insulated) or go through the small hatch forward of the control console. Inside the console itself, all the engine wiring, steering and controls, auto pilot and electronics black boxes are close at hand and very easily serviced. Few small boats match her ease of preventative maintenance - a huge plus.
The V-berth area is tidy, and the port and starboard bunks can be joined into a queen-size bed by the addition of a drop-down table. Scopinich cleverly places the microwave in a molded-in cabinet over the foot of the bunk, which allows for a large storage cabinet over the galley sink and storage drawers. You'll also find a VacuFlush marine toilet under a seat to starboard and a good-size hanging locker with two shelves. The small galley has a Corian countertop, a sink with instant-flow hot water and a small refrigerator with ice maker.
Scopinich builds a solid boat with fiberglass bottom and vacuum-bagged, high-density, foam-cored hull sides. All resins are vinylester, and even with the vinylester barrier coat, she gets an application of Awlgrip on both interior and exterior surfaces. The entire interior is finished to allow spray cleaning throughout.
Specifications

LOA
35'
WEIGHT
14,000 lb.
BEAM
12'
FUEL
400 gal.
DRAFT
3'
WATER
40 gal.
POWER
T 425 hp QSB
BASE PRICE
On request

Scopinich Boat Works
Port Salerno, Florida
772-288-3111
www.scopinich.com