Se habla español - favor enviar correo electronico a scop@scopinich.com

Helpful maintenance tips:
Just a quick soft brush when washing the boat
Sudsy ammonia and a brightener once a month (with heavy fishing use) with keep your teak deck beautiful for years to come
A cockpit cover will aid in life and maintenance of a deck and covering boards much longer than one exposed to the elements
When you need excellent quality, fair priced products you need not look any further. Just drop us a line and we will take care of the rest
PO Box 1747
Port Salerno, Florida
34992-1747
Telephone: 772-288-3111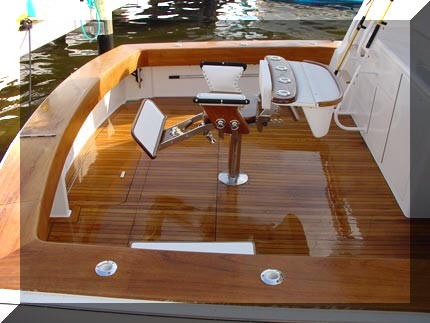 SCOPINICH TEAK DECKS
Thinking of a Refit or a teak deck for your new boat? Let us have the opportunity to give you a free quote.
We use "Grade A" hand selected Burmese Teak, ½" thickness and NO plugs.
Teak Decks, steps, coaming and covering boards add a custom look to your boat as well as making maintenance easier. No more cleaning footprints all day long. It adds traction under all conditions. It takes away the glare when looking down at the cockpit. Overall it's better looking.
If you are needing to order any of the products featured on this
website, please give us a call or send us an email. We would
be happy to help you in any way that we can